Not what you want?
Try searching again using:
1. Other similar-meaning words.
2. Fewer words or just one word.
Collaboration in Chinese / Japanese...
Buy a Collaboration calligraphy wall scroll here!
Start your custom "Collaboration" project by clicking the button next to your favorite "Collaboration" title below...

xié tóng

kyou dou

협동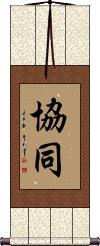 This Japanese, Chinese, and Korean word means: to cooperate; in coordination with; coordinated; collaborate; collaboration; collaborative; doing together (as equals).

Some will also use this as a short way to express the western idea of synergy (collaboration for a better result). There's a longer word, 協同作用, that adds "action" to this word, and more directly means synergy.

xié zuò

kyou saku

협작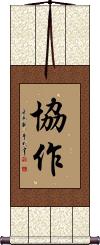 Cooperation is working together and sharing the load. When we cooperate, we join with others to do things that cannot be done alone. We are willing to follow the rules which keep everyone safe and happy. Together we can accomplish great things.

The first character means "united" or "to coordinate." The second character means "to do," "to make," or "to compose." Knowing this, you can understand why together, these characters create a word that can be defined as "cooperation" in Chinese, Japanese, and Korean.

It is implied that you are cooperating to create some project or product.
---
See Also: Partnership
Not the results for collaboration that you were looking for?
Below are some entries from our dictionary that may match your collaboration search...
Characters

If shown, 2nd row is Simp. Chinese

Pronunciation
Romanization
Simple Dictionary Definition

Fatal error: Cannot redeclare mockup() (previously declared in /home/admin/web/orientaloutpost.com/public_html/includes/render5.php:4) in /home/admin/web/orientaloutpost.com/public_html/render5.php on line 537