zhuān xīn

sen shin

전심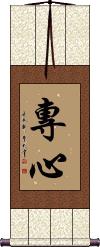 The first character means "for a particular person, occasion, or purpose," "focused on one single thing," "concentrated" and sometimes, "special."

The second character means "heart" or "mind" by itself.

Together, these two characters make a word that means, "paying attention with your heart." It's often translated as, "dedication," as in "be absorbed in" or "concentrate one's efforts." It's also used to mean, "with single mind," "whole-heartedly," "paying attention," "undivided attention," "concentration (-ed)," "engrossed," "devotionally (listening/watching)," and/or "attentive."

My favorite translation, which comes from the Oxford Advanced Chinese/English Dictionary is, "wholehearted devotion."

If it seems like the meaning of this word is quite open, you are correct. The context in which the word is used matters a lot. It can mean different things depending on how you use it. This makes it kind of nice as you can decide what this means to you (within some limits). This word is always positive in meaning, so even if a Chinese person reads it differently than you, it will still have a good meaning.
---

In Japanese, they tend to use a variation of the second character which has one less stroke. If you want your calligraphy written this Japanese form, please click on the Kanji shown to the right instead of the button above. Note: Japanese and Chinese people will recognize either form.
---