zhāng

chou

장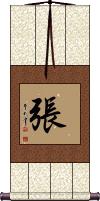 張 is a Chinese surname that romanizes as Zhang, but in Taiwan or old romanization can be Cheung.

This can also be the Japanese surnames Harisaki, Hari, Hara, Tsuan, Chou, Cho, Chiyan, Chiyau, Chan, Chian, Sun, Jin, Jiyon, Jiyan, Zan, San, or Kin.

The meaning of this character can be: to open up; to spread; sheet of paper; classifier for flat objects; sheet; classifier for votes.