Not what you want?
Try searching again using:
1. Other similar-meaning words.
2. Fewer words or just one word.
Stone in Chinese / Japanese...
Buy a Stone calligraphy wall scroll here!
Start your custom "Stone" project by clicking the button next to your favorite "Stone" title below...

shí

ishi

석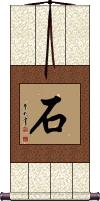 石 is the character that means rock or stone in both Chinese and Japanese.

Alone, this will be read as "stone" in Japanese but in some context, it is a unit of measure for the volume of about five bushels.

This can also refer to a gem or jewel.

This can also be the Japanese surnames that romanize as Ishi, Tsuruishi, Soku, Seki, Shi, Kazu, Iso, Ishizaki, Ishisaki or Koku.

sittpai wa seikou no moto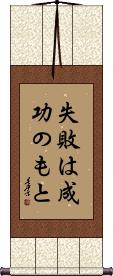 This Japanese proverb literally reads, "failures/mistakes/blunders are the yeast-starter/yeast-mash of success."

Basically, it suggests that failures are a necessary part of success; Just as bread or beer requires yeast to successfully rise or brew/ferment.
---
Note: Because this selection contains some special Japanese Hiragana characters, it should be written by a Japanese calligrapher.

yù

tama / gyoku

옥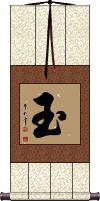 玉 is how to write jade in Chinese, Korean Hanja, and Japanese Kanji. This refers to the semi-precious stone that can be almost white or a vivid green.

Note: In Japanese, this character can mean jewel, ball, sphere or coin depending on context.

If your name is Jade, you may want to choose this to represent your name by meaning rather than pronunciation.
Not the results for stone that you were looking for?
Below are some entries from our dictionary that may match your stone search...
Characters

If shown, 2nd row is Simp. Chinese

Pronunciation
Romanization
Simple Dictionary Definition

Fatal error: Cannot redeclare mockup() (previously declared in /home/admin/web/orientaloutpost.com/public_html/includes/render5.php:4) in /home/admin/web/orientaloutpost.com/public_html/render5.php on line 537