xiàn shì

gen sei

현세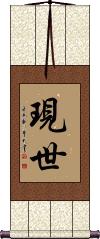 現世 is a very short way to write "live in the moment" or "live in the now" in Japanese.

This short word is open to interpretation. It's used in Japanese Buddhism to mean "the current epoch" or "the current age" (the current age is but a brief moment in the greater scope of existence). When used in that context, this is pronounced "utsushiyo" or "ustusiyo" in Japanese. Otherwise, it's pronounced "gensei" in Japanese.

Other translation possibilities include:
Live for now
Earthly world
This world
This life

Earthly life
Present life
Present generation
Present incarnation

Current age
This existence
This (momentary) reality

---
Note: This is also a word in Chinese and old Korean Hanja. While the meaning is more or less the same, this is not recommended for a wall scroll if your audience is Chinese or Korean. This selection is best if your audience is Japanese.