Not what you want?
Try searching again using:
1. Other similar-meaning words.
2. Fewer words or just one word.
Peace Health in Chinese / Japanese...
Buy a Peace Health calligraphy wall scroll here!
Start your custom "Peace Health" project by clicking the button next to your favorite "Peace Health" title below...

kāng

kou

강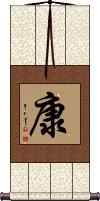 康 is a single character that means good health or vigor in Chinese, Japanese Kanji, and old Korean Hanja.

康 can also mean peaceful, at ease, or abundant in some contexts.

Please note that this is rarely seen alone in Japanese Kanji. In Japanese, it is used both for health-related compound words and to denote the kouhou through koushou eras of Japan.

In Korean, this can also be the family name "Kang" (caution: not the only family name romanized as Kang in Korean).
---

ān kāng

안강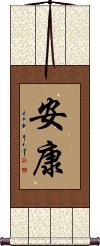 安康 means just what it says. It's a word that expresses both the idea of being at peace and healthy at the same time.

Note: 安康 is a bona-fide word in Chinese and Korean, and the characters will at least make sense in Japanese.

ān níng

an nei

안녕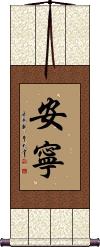 安寧 is a nice word that means peaceful, tranquil, calm, composed, "free from worry," "public peace," tranquility, good health, well-being, or welfare in Chinese and Korean.

Note: The definition in Japanese is not so broad but still means peaceful or "public peace."
Not the results for peace health that you were looking for?
Below are some entries from our dictionary that may match your peace health search...
Characters

If shown, 2nd row is Simp. Chinese

Pronunciation
Romanization
Simple Dictionary Definition

Fatal error: Cannot redeclare mockup() (previously declared in /home/admin/web/orientaloutpost.com/public_html/includes/render5.php:4) in /home/admin/web/orientaloutpost.com/public_html/render5.php on line 537