Not what you want?
Try searching again using:
1. Other similar-meaning words.
2. Fewer words or just one word.
Om Mani Padme Hum in Chinese / Japanese...
Buy an Om Mani Padme Hum calligraphy wall scroll here!
Start your custom "Om Mani Padme Hum" project by clicking the button next to your favorite "Om Mani Padme Hum" title below...

ǎn mó nǐ bō míng hǒu

on mani padomei un

옴마니반메훔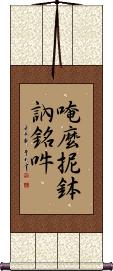 This is one of the earliest and best known mantras in the Buddhist tradition.

It can be heard in temples from Tokyo to Tibet.

This mantra is an expression of the basic attitude of compassion. It translates literally as, "oṃ the jewel in the lotus hūṃ".
---
There are several titles and transliterations for this mantra, including, 六字大明呪 (Great 6-syllable mantra), 六字真言 (6-syllable Sanskrit mantra of Avalokiteshvara bodhisattva), 唵嘛呢叭咪吽, 唵嘛呢叭咪哞, and 唵嘛咪叭呢哞.
Contact me if you need any of these alternates on your wall scroll.
Not the results for om mani padme hum that you were looking for?
Below are some entries from our dictionary that may match your om mani padme hum search...
Characters

If shown, 2nd row is Simp. Chinese

Pronunciation
Romanization
Simple Dictionary Definition

Fatal error: Cannot redeclare mockup() (previously declared in /home/admin/web/orientaloutpost.com/public_html/includes/render5.php:4) in /home/admin/web/orientaloutpost.com/public_html/render5.php on line 537