shàn

zen

선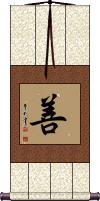 善 means goodness, virtue, good deed, charitable, benevolent, well-disposed, nice, pleasant, kind, or simply, "good."

善 is the kind of good that applies to someone's good character, or a good person in general.

Referring to someone with this word means that they have a well-aimed moral compass, are charitable, giving, wise, and honest. Basically, this is a blanket statement for every good trait a human can have, or all the things that make someone good.

In another context, it can mean to improve or perfect something or refer to someone who is good at something.