Not what you want?
Try searching again using:
1. Other similar-meaning words.
2. Fewer words or just one word.

If all else fails, email me and
tell me what you need.
Heroic in Chinese / Japanese...
Buy a Heroic calligraphy wall scroll here!
Personalize your custom "Heroic" project by clicking the button next to your favorite "Heroic" title below...

háo qì

호기

豪氣 is heroic spirit or heroism in Chinese and old Korean Hanja.

This might come across as a bit arrogant to hang on your wall.

yǒng shì jīng shén

용사정신

This can be translated as the warrior's spirit or warrior's soul. The first two characters can be translated as "warrior" or literally "brave soldier/man" although some will translate this word as "hero." Therefore, this is also how to say "heroic spirit."

The second two characters mean vigor, vitality, drive, spirit, mind, heart, mental essence and psychological component. Basically "your soul."
---
We have two versions of this phrase. The only difference is the first two and last two characters are swapped. The version here suggests that you admire or like the idea of the spirit of a warrior. The other version suggests that you are the warrior or hero.

xiàn yì jūn rén

geneki gunjin

현역군인

現役軍人 means "Active Duty Soldier" or literally "Active Duty Military Person."

This title is a great way to show your pride in being an active duty member of the armed forces.

The first two characters mean "active duty" and the second two characters can be translated as "military personnel," "soldier," or "serviceman" (it is unisex, so male or female is not indicated).
---
See Also: Military

yǒng gǎn

yuu kan

용감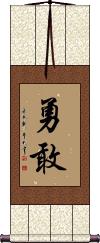 勇敢 is about courage is bravery in the face of fear. You do the right thing even when it is hard or scary. When you are courageous, you don't give up. You try new things. You admit mistakes. This kind of courage is the willingness to take action in the face of danger and peril.

勇敢 can also be translated as: braveness, valor, heroic, fearless, boldness, prowess, gallantry, audacity, daring, dauntless and/or courage in Japanese, Chinese, and Korean. This version of bravery/courage can be an adjective or a noun. The first character means bravery and courage by itself. The second character means "daring" by itself. The second character just emphasizes the meaning of the first but adds an idea that you are not afraid of taking a dare, and you are not afraid of danger.

勇敢 is about brave behavior versus the mental state of being brave. You'd more likely use this to say, "He fought courageously in the battle," rather than "He is very courageous."

jiàn yì yǒng wéi

The title says it all.

This could also be translated as:
"Never hesitate to do what is right."
---
See Also: Work Unselfishly for the Common Good | Justice | Bravery

yǒng

isamu / yu-

용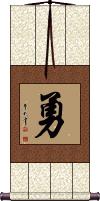 勇 can be translated as bravery, courage, valor, or fearless in Chinese, Japanese and Korean.

勇 is the simplest form to express courage or bravery, as there is also a two character form which starts with this same character.

勇 can also be translated as brave, daring, fearless, plucky or heroic.
---
This is also a virtue of the Samurai Warrior
See our page with just Code of the Samurai / Bushido here
---

xìn yì zūn yán yǒng qì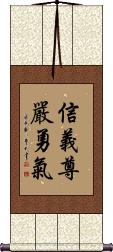 This is a word list that was requested by a customer. Word lists are not that common in Chinese but we've put this one on the best order/context to make it as natural as possible.

We used the "honor" that leans toward the definition of "dignity" since that seemed like the best match for the other two words.

Please note: These are three two-character words. You should choose the single-column format when you get to the options when you order this selection. The two-column option would split one word or it would be arranged with four characters on one side and two on the other.

shì bīng

사병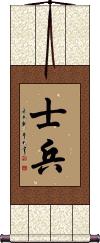 士兵 means "Soldier" but more specifically, a rank-and-file soldier (a private or troop - you could say a ground-pounder). Our other entry for "solider / serviceman" is probably better for a wall scroll (since someday, you will be promoted).

Note: In Japanese, they use these characters in opposite order to create the same meaning word. In that order, it's pronounced "heishi" in Japanese. Just let us know if you want it in Japanese Kanji order when you place your order.
Many custom options...




And formats...



The following table may be helpful for those studying Chinese or Japanese...
Title
Characters
Romaji

(Romanized Japanese)

Various forms of Romanized Chinese
Heroic Spirit
英氣

---

英气
yīng qì / ying1 qi4 / ying qi / yingqi
ying ch`i / yingchi / ying chi
Heroic Spirit
Heroism
豪氣

---

豪气
háo qì / hao2 qi4 / hao qi / haoqi
hao ch`i / haochi / hao chi
Heroic Spirit
Great Ambition
雄心
yuushin / yushin
xióng xīn

---

xiong2 xin1

---

xiong xin

---

xiongxin
hsiung hsin

---

hsiunghsin
Warrior Soul
Heroic Spirit
勇士精神
yǒng shì jīng shén

---

yong3 shi4 jing1 shen2

---

yong shi jing shen

---

yongshijingshen
yung shih ching shen

---

yungshihchingshen
Active Duty Military
現役軍人

---

现役军人
geneki gunjin

---

genekigunjin
xiàn yì jūn rén

---

xian4 yi4 jun1 ren2

---

xian yi jun ren

---

xianyijunren
hsien i chün jen

---

hsienichünjen
Bravery
Courage
勇敢
yuu kan / yuukan / yu kan / yukan
yǒng gǎn / yong3 gan3 / yong gan / yonggan
yung kan / yungkan
Courage to do what is right
見義勇為

---

见义勇为
jiàn yì yǒng wéi

---

jian4 yi4 yong3 wei2

---

jian yi yong wei

---

jianyiyongwei
chien i yung wei

---

chieniyungwei
Bravery
Courage
勇
isamu / yu-
yǒng / yong3 / yong
yung
Fidelity Honor Courage
信義尊嚴勇氣

---

信义尊严勇气
xìn yì zūn yán yǒng qì

---

xin4 yi4 zun1 yan2 yong3 qi4

---

xin yi zun yan yong qi

---

xinyizunyanyongqi
hsin i tsun yen yung ch`i

---

hsinitsunyenyungchi

---

hsin i tsun yen yung chi
Soldier
Private
士兵
shì bīng / shi4 bing1 / shi bing / shibing
shih ping / shihping
Soldier
Serviceman
軍人

---

军人
gun jin / gunjin
jūn rén / jun1 ren2 / jun ren / junren
chün jen / chünjen
In some entries above you will see that characters have different versions above and below a line.
In these cases, the characters above the line are Traditional Chinese, while the ones below are Simplified Chinese.
Successful Chinese Character and Japanese Kanji calligraphy searches within the last few hours...
All of our calligraphy wall scrolls are handmade.
When the calligrapher finishes creating your artwork, it is taken to my art mounting workshop in Beijing where a wall scroll is made by hand from a combination of silk, rice paper, and wood.
After we create your wall scroll, it takes at least two weeks for air mail delivery from Beijing to you.
Allow a few weeks for delivery. Rush service speeds it up by a week or two for $10!
When you select your calligraphy, you'll be taken to another page where you can choose various custom options.
Check out my lists of Japanese Kanji Calligraphy Wall Scrolls and Old Korean Hanja Calligraphy Wall Scrolls.
Some people may refer to this entry as Heroic Kanji, Heroic Characters, Heroic in Mandarin Chinese, Heroic Characters, Heroic in Chinese Writing, Heroic in Japanese Writing, Heroic in Asian Writing, Heroic Ideograms, Chinese Heroic symbols, Heroic Hieroglyphics, Heroic Glyphs, Heroic in Chinese Letters, Heroic Hanzi, Heroic in Japanese Kanji, Heroic Pictograms, Heroic in the Chinese Written-Language, or Heroic in the Japanese Written-Language.
10 people have searched for Heroic in Chinese or Japanese in the past year.
Heroic was last searched for by someone else on Jul 5th, 2018