Not what you want?
Try searching again using:
1. Other similar-meaning words.
2. Fewer words or just one word.
Guardian Angel in Chinese / Japanese...
Buy a Guardian Angel calligraphy wall scroll here!
Start your custom "Guardian Angel" project by clicking the button next to your favorite "Guardian Angel" title below...

shǒu hù tiān shǐ

shu go ten shi

守護天使 is the title used for guardian angel in Chinese and Japanese Kanji. It's used in the same way that we use this title in the west - such as a guardian angel watching out for you, and allowing you to survive a disaster or accident.

The first two characters mean to guard and protect. The second two mean "angel" (literally "Heaven's messenger").

bǎo hù zhě

hogosha

보호자

保護者 is the universal word for protector in Chinese, Japanese Kanji, and old Korean Hanja.

The first character means to defend, to protect, to insure or guarantee, to maintain, hold or keep, or to guard.

The second character means to protect.

Together the first and second characters create a word that means to defend, to protect, or to safeguard.

The last character means person.

Add all three characters together, and you have a word that means "protector," one who will protect, guard, and keep you safe.

Some will also translate this word as guardian or patron.
---
Note: Not a common selection for a wall scroll in Asia.

bì hù

hi go

비호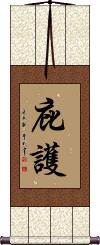 庇護 is not the most common word for a wall scroll but this is the word for protection in Chinese, Japanese Kanji, and old Korean Hanja.

庇護 is the non-religious, non-superstitious form of protection.

庇護 can be translated as shelter, shield, defend, safeguard, take under one's wing, to put under protection. In certain context, it means to grant asylum or give refuge and sanctuary.

bǎo yòu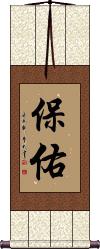 保佑 / 保祐 is the more religious and sometimes superstitious word for protection in Chinese. It's sort of a blessing of protection, and is often translated as "bless and protect," "blessing," or "to bless."

This would be used the protection or blessing that a deity (such as God) would bestow upon you. It is not religion-specific in the same way that a language itself cannot be specific to any religion.
---

Note: Sometimes the second character is written in the form shown to the right. Let us know if you have a preference when you place your order.

shàng dì bǎo yòu

상제보우

上帝保佑 is a blessing exchanged between Chinese Christians.

The first two characters literally mean God (The God of Zion). The second two characters express the idea of giving protection. Another way to translate this is "May God protect you."
Not the results for guardian angel that you were looking for?
Below are some entries from our dictionary that may match your guardian angel search...
Characters

If shown, 2nd row is Simp. Chinese

Pronunciation
Romanization
Simple Dictionary Definition

Fatal error: Cannot redeclare mockup() (previously declared in /home/admin/web/orientaloutpost.com/public_html/includes/render5.php:4) in /home/admin/web/orientaloutpost.com/public_html/render5.php on line 537