Not what you want?
Try searching again using:
1. Other similar-meaning words.
2. Fewer words or just one word.
Goldfish in Chinese / Japanese...
Buy a Goldfish calligraphy wall scroll here!
Start your custom "Goldfish" project by clicking the button next to your favorite "Goldfish" title below...

jīn yú

kin gyo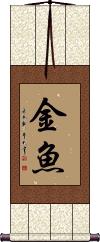 金魚 is the title for goldfish in Chinese and Japanese.

There was a time in ancient China when only the Emperor could possess the true yellow-gold colored fish. 金魚 is why alternate coloration such as orange, black, red, and white were bred. Many believe this is why colors other than yellow-gold are more common for "goldfish" found in pet shops today.

huáng

hon / kou

황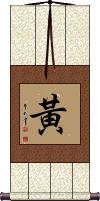 黃 is the single character for the color yellow in Chinese.

In China, yellow is traditionally the color of the emperor. In fact, there was a time when only the emperor could wear yellow clothing, or own yellow pet fish. Note: Goldfish were breed originally in China for the emperor. When the perfect yellow fish was breed, all but the emperor were banned from owning any. Thus a more orange-colored goldfish dominated the market.

黃 is not a common selection for a wall scroll. Even if your Chinese surname is Huang (Yellow) or your Korean surname is Hwang (yellow), it's still probably not appropriate.
---

This character is written with a slight variation in Simplified Chinese and modern Japanese. Click on the image to the right if you want this alternate version.
Not the results for goldfish that you were looking for?
Below are some entries from our dictionary that may match your goldfish search...
Characters

If shown, 2nd row is Simp. Chinese

Pronunciation
Romanization
Simple Dictionary Definition

Fatal error: Cannot redeclare mockup() (previously declared in /home/admin/web/orientaloutpost.com/public_html/includes/render5.php:4) in /home/admin/web/orientaloutpost.com/public_html/render5.php on line 537