Not what you want?
Try searching again using:
1. Other similar-meaning words.
2. Fewer words or just one word.
Dragon Tiger in Chinese / Japanese...
Buy a Dragon Tiger calligraphy wall scroll here!
Start your custom "Dragon Tiger" project by clicking the button next to your favorite "Dragon Tiger" title below...

lóng hǔ jīng shén

ryu ko sei shin

龍虎精神 means the spirit of the dragon and tiger. It speaks to the vitality and vigor that is the nature of these two creatures.

Beyond "spirit," the second two characters can also mean mind, soul, or heart. Therefore, you can also say this means "Heart of the Dragon and Tiger," etc.

龍虎精神 is often titled as "Ryukoseishin" in many Japanese martial arts.

cáng lóng wò hǔ

장룡와호

The meaning of 藏龍臥虎 is that both the tiger and dragon have amazing talents, but if they are out of view, you may not have discovered them.

This old Chinese idiom/proverb is appropriate for someone with amazing ability that keeps that ability hidden.

You might think this title is in reverse, but actually, this is the original Chinese proverb.
The movie Crouching Tiger, Hidden Dragon popularized this alternate version.

lóng mǎ jīng shén hǔ hǔ shēng wēi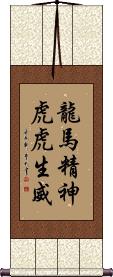 This is an old proverb that is used to wish someone great health and success combined as a great compliment.

The meaning is "The vigor and spirit of the legendary dragon-horse, and the power and prestige of the tiger."

By giving a wall scroll like this to someone, you were either wishing or telling them that they have these qualities. There is also a suggestion of good health - at least anyone with the vigor of a dragon horse, would seem to also be in good health.

wò hǔ cáng lóng

와호장룡

臥虎藏龍 is the movie title of the Kung Fu epic that was very popular in the west a few years back.

臥虎藏龍 is actually a re-ordering of an ancient Chinese proverb that refers to undiscovered talents.

The movie was one of the most popular Chinese foreign films to ever debut in the USA but received a lukewarm reception in China.

Note: This can be pronounced in Korean but it's not a commonly used term.

lóng shé hǔ bào hè

ryuu hebi tora hyou tsuru

룡사호표학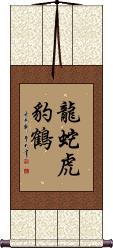 龍蛇虎豹鶴 is a list of the Chinese characters for the five animals of Shaolin Kung Fu in a comfortable order (meaning that they are in the proper order and will simply "feel right" to a Chinese person who views this arrangement).
Not the results for dragon tiger that you were looking for?
Below are some entries from our dictionary that may match your dragon tiger search...
Characters

If shown, 2nd row is Simp. Chinese

Pronunciation
Romanization
Simple Dictionary Definition

Fatal error: Cannot redeclare mockup() (previously declared in /home/admin/web/orientaloutpost.com/public_html/includes/render5.php:4) in /home/admin/web/orientaloutpost.com/public_html/render5.php on line 537