Buy a wall scroll with Elizabeth in Chinese or Japanese.
We've carefully transliterated the name Elizabeth into Mandarin Chinese and Japanese Katakana. Click a button below to see many custom calligraphy artwork options for Elizabeth.

nǚ jié

joketsu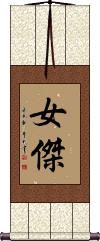 女傑 can mean brave woman, heroine, lady of character, distinguished woman, outstanding woman, and sometimes prominent woman.

Some people might use this to give a title to women like Amelia Earhart, Rosa Parks, Queen Elizabeth the First, Joan of Arc, Mulan Fa, Yevdokiya Nikolayevna Zavaliy, Harriet Tubman, Anne Frank, Clara Barton, and Jane Eyre.

I use it for a woman like Araceli Segarra (the first woman from Spain to climb Mt. Everest) and gave one of my daughters the middle name of Araceli.
The following table may be helpful for those studying Chinese or Japanese...
Title
Characters
Romaji

(Romanized Japanese)

Various forms of Romanized Chinese
Elizabeth
伊麗莎白

---

伊丽莎白
yī lí shā bái

---

yi1 li2 sha1 bai2

---

yi li sha bai

---

yilishabai
i li sha pai

---

ilishapai
Elizabeth
エリザベス
erizabesu
Woman of Strong Character
Woman Hero
女傑

---

女杰
joketsu
nǚ jié / nv3 jie2 / nv jie / nvjie
nü chieh / nüchieh
In some entries above you will see that characters have different versions above and below a line.
In these cases, the characters above the line are Traditional Chinese, while the ones below are Simplified Chinese.
All of our calligraphy wall scrolls are handmade.
When the calligrapher finishes creating your artwork, it is taken to my art mounting workshop in Beijing where a wall scroll is made by hand from a combination of silk, rice paper, and wood.
After we create your wall scroll, it takes at least two weeks for air mail delivery from Beijing to you.
Allow a few weeks for delivery. Rush service speeds it up by a week or two for $10!
When you select your calligraphy, you'll be taken to another page where you can choose various custom options.
"Elizabeth" in Chinese, calligraphy, pronunciation.
Your name in English, Chinese character, Pinyin pronunciation and Calligraphy.
Elizabeth in Chinese Characters and Japanese Kanji Symbols ...
If you are looking for Elizabeth in Chinese or Japanese, you have come to the right ... This is the name Elizabeth written in Katakana (phonetic Japanese). As of...
Chinese Names
George Bush, for example, is known as bù si (??) in Taiwan and bù shí (??) in China. Elizabeth Taylor's Chinese name is yi lì sha bái tài lè...
Meaning of Elizabeth - American baby name
Find the meaning of the name Elizabeth. Search more than 30000 baby names meanings.
... Basque Names Chinese Names Danish Names Dutch Names Gaelic Names German Names
CHINESE NAME Elizabeth - All About The Chinese Name Elizabeth
Chinese Name Elizabeth, EVERYTHING About It. Meanings: Use, take\With, by; according to; because of; in order to, so as to\At (a certain time), on (a fixed date)\And...
What does the name ELIZABETH mean?
What does the name ELIZABETH mean?
Answers.com - Why is there a snake symbol on queen elizabeth ...
The serpent represents wisdom - the wisdom of Elizabeth. It has a heart locket in its mouth to represent youth and love - the love she feels for all her subjects
Saint Elizabeth, Mother of John the Baptist
The name Elizabeth, which has been borne by several saints, means in Hebrew "worshiper of God." All that we know of Elizabeth, wife of Zachary and mother of John the...
Elisabeth of Hungary - Wikipedia, the free encyclopedia
Elisabeth was married at the age of 14, widowed at 20, relinquished her wealth to the poor, built hospitals, and became a symbol of Christian charity in Germany and...
Dan Brown - The Lost Symbol | Elizabeth ...
Article: Dan Brown - The Lost Symbol | Elizabeth Gilbert - Eat Pray Love, Prague - Czech Republic
virtuaLit: The Fish by Elizabeth Bishop
2 3 4 5 6 7 8 9 10 11 12 13 14 15 16 17 18 19 20 21 22 23 24 25 26 27 28 29 30 31 32 33 34 35 36 37 38 39 40 41 42 43 44 45 46 47 48 49 50 51
Answers.com - What symbols are associated with St Elizabeth ...
Holy Eucharist two Bibles habit of the Sisters of Charity children marriage widow mother Episcopaelin Roman Catholic convert teacher caretaker prayer "Live simply so...